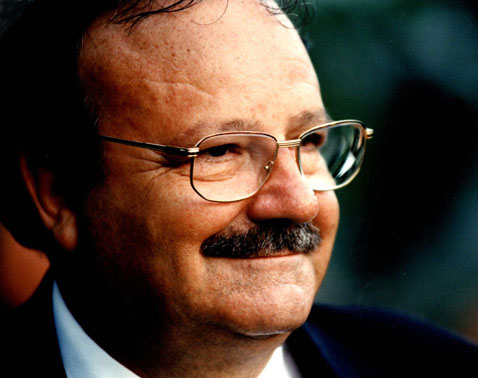 Happiness does not come from owning many things, it stems from the pride of managing to build something that only work can give you. This very philosophy has enlightened and supported me over 50 years, from the foundation of OFFICINA BIGIOTTERIA ITALIANA, during its evolution, and up to its present development. I believe that excellence in any field can be achieved only through lifelong work and that a lower price cannot be paid for it.
Back in 1958, I learned the first rudiments of my work as an apprentice in a small artisan's workshop.
After only 7 years and aged just 20, I decided to embark on this adventure.
The background set, and the receptacle for many dreams, ambitions and much enthusiasm, was the little 40 square metre room I used to ride my Lambretta to every day. There I would spend a 16 hour working day with intense physical and intellectual commitment. At that time the products were intended for the domestic market, dominated by small leather goods craft firms.
As any product is the result of the concerted effort of many people with different specific technical, commercial and aesthetic skills, we already numbered around 200 employees in the late 60s.
The incessant transformations of an increasingly demanding and competitive market imposed reconsiderations of new strategies aimed at production consolidation and development. It became imperative to seek new materials that would enable large production runs in short times.
The craft phase gave way to the industrial phase: this was in the 70s. In subsequent years, OFFICINA BIGIOTTERIA ITALIANA branched out and established itself as the leading model in Europe, and then in Asia and Latin-America.
We consolidated relationships and alliances that further expanded our know-how and market.
Many anxious moments before the presentation of the new collection are still etched in my memory. It was, however, always constructive anxiety, that served as a driving force for presenting the new products to the market.
It was thus possible to tackle the crisis of the 90s with intuition and determination, and our decision to move to high quality production with increasingly sophisticated machinery and technology was the right one.
Special thanks go to my brother and my sons - Luca, Giacomo and Alessio. Bringing in an atmosphere of change, they flanked me until they took over the control lever: that was in the year 2000.
Their dynamic management of OFFICINA BIGIOTTERIA ITALIANA means that our products continue to meet the demands of the most exclusive fashion houses and customers worldwide, along with consultancy work and dissemination of the industrial know-how consolidated in our experience built up over 50 years.
I owe much affectionate gratitude to Miranda, my intelligent and caring wife and life partner, without whom my professional adventure would have been less efficient and effective. No-one likes hard work, but I like what work holds: the chance to be fulfilled at all times. I wish OFFICINA BIGIOTTERIA ITALIANA many years of success and a peaceful future for my children and the future generations.
Giancarlo Boncompagni